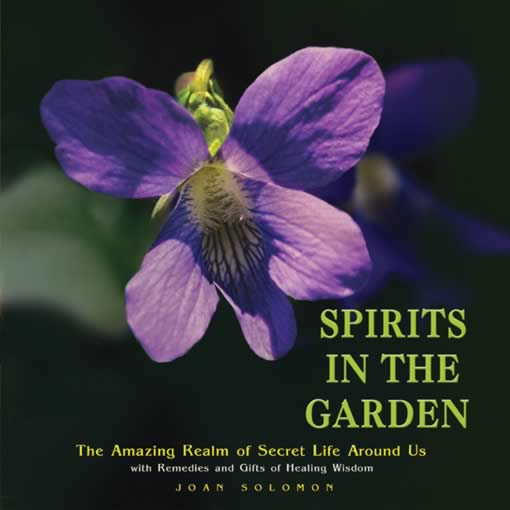 THE FIRST DOCUMENTED, UNRETOUCHED
PHOTOGRAPHS OF SPIRITS IN NATURE
Shift your perspective, open your mind.
INVITE SPIRITS IN THE GARDEN TO INSPIRE YOUR LIFE.
Some have called them gnomes, fairies, and elf spirits.
This time they are real.
Here are the first known documented photographs of Spirits in Nature.
LIVING BEINGS REVEAL THEMSELVES in the lush flower close-ups and garden photographs of this enchanting book offering us a blueprint for restoring the earth to well-being.
Enhance your life with GIFTS OF HEALING WISDOM, REMEDIES AND RECIPES FROM THIS FASCINATING SECRET WORLD.
RECONNECT WITH NATURE'S SPIRIT AND SAVE OUR PLANET
Click on the thumbnails below to view full-sized images of the cover, plus insights, quotes, and excerpts from the book, Spirits in the Garden.
Testimonials
"Thank you Joan Solomon for seeing beyond the everyday world and sharing these enchanting – and enchanted – photographs and the magic that is there."
– Dr. Jane Goodall, DBE, Founder – the Jane Goodall Institute & UN Messenger of Peace
"A copy of your stunning, gorgeous, magical, enchanting, and positively breath-taking book arrived via Jane three days ago. I can't stop showing people your work. Congratulations on this brilliant and beautiful piece of art that spans the kingdoms of nature and humankind….Bless you, Joan….You're a genius…"
– Caroline Myss, Author, NY times best-seller Anatomy of the Spirit
"These groundbreaking images and words reveal a world afresh with beauty, interconnection and possibility."
– Nina Utne, Editor in Chief, Utne Magazine
"A Stunning and powerful book… What you have seen astonishes and moves me."
– University of Minnesota Professor Toni McNarron
"Amazing! Beautiful!" "I love these photos!" "How wonderful! A million blessings on your work."
"Your magical photos make me stop and look at nature with a more sensitive eye."
– Carolyn Blesi
"Spirits in the Garden" is absolutely awe-inspiring. When I show it to people, it takes their breath away. This book will give you a new perspective of the "life" that exists in our natural environment. After seeing the photographs in the book, you will never look at a flower or spend time in nature in the same way again. Your eyes will be open to a whole new world."
– Jessica Lyman
"I received the book today. It really is so special I could cry. The photos are amazing, the writing perfection, the apology to Nature- Oh, how true. I am going to take it into the sanctuary of my bed tonight to properly ooh and aahhh. God threw you an amazing pass, you caught the ball and ran all the way to heaven with it."
– Patricia McCarthy
I recently purchased and received three copies of your new book in the mail. The book is absolutely amazing! It is even more lovely and wonderful than I imagined, and I had high expectations for it! What a gift you've given us with your photographs and information about the plants. Thank you for producing such a work of art and inspiration for all of us."
– Janell Schneider
---
Click below to order online through our secure shopping cart.
Spirits in the Garden by Joan Solomon
For more information, contact the studio by email at info@joansolomon.com.