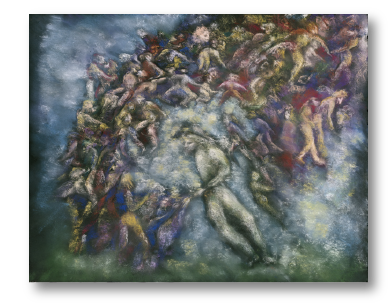 The source of Joan Solomon's art is at once mysterious and unexpected. One day, while attending a business meeting, Solomon's thoughts drifted and the marks on the piece of paper in front of her spontaneously began to take shape. When she glanced down at the page she discovered a face, fully formed, staring back at her.
It was as if an unseen world had suddenly beckoned. Though she had no formal art training, Joan Solomon soon left a successful career to follow her vision. Her work evolved from small 8″ x 10″ drawings to 5 ' x 5 ' mixed media montages. The response to Solomon's work was profound. Collectors from all over began to seek her out.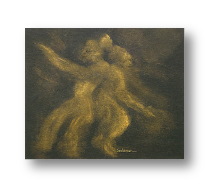 Many spoke of being deeply moved.
"This work," writes author Terry Tempest Williams, "is the unveiling of the sacred." Solomon says of the work, "I believe, through this art, others can glimpse the unity of all things and draw courage to follow their own path of the divine."
The Studio
In the heart of Minnesota, artist Joan Solomon creates her works of nature and spirit at Westridge, the lakeside studio.


Collectors, Friends, Mentors:
Abbott Northwestern Hospital – Minnesota
Barbara Graham and Hugh Delahanty – Washington D.C.
Bill and Laurie Benenson – Pacific Palisades, California
Bobby and Debbie McFerrin – Philadelphia, Pennsylvania
Bob Dylan – Los Angeles, California
Bonnie Goldstein and Jim Grady – Silver Spring, Maryland
Boynton Medical Center at University of Minnesota – Minneapolis, Minnesota
Bruley Medical Center – Minneapolis, Minnesota
Cynthia Redmond-Wayzata – Minnesota
Diane and Allan Page – Minneapolis, Minnesota
Dr. Marjorie Rand – Venice, California
First Universalist Church – Minneapolis, Minnesota
Horst Rechelbacher – Osceola, Wisconsin
Hudson Hospital and Healing Center – Hudson, Wisconsin
James Thornton – Santa Fe, New Mexico
Jane Goodall Institute – Silver Spring, Maryland
Jordana and Michael Perman, Portland Oregon
Kaplan Law Corporate Office – Minneapolis, Minnesota
Leonard Street and Deinard – Minneapolis, Minnesota
Margo King Steiner – Boulder, Colorado
Matt and Genevieve Wallace – San Diego, California
Michael and Susan Dell – Austin, Texas
Michelle and Bill Pohlad – Minneapolis, Minnesota
Mimi DeBlasio and Bret Lopez – Scarecrow Winery, Napa,  California
Ms. Lisa Ringer – Ororo, Minnesota
Ms. Nancy Ward – Hill Point, Wisconsin
Myron and Anita Kunin – Minneapolis, Minnesota
Nina Rothschild Utne – Minneapolis, Minnesota
Odyssey Resorts – Two Harbors, Minnesota
Pat and Karen Proft – Wayzata, Minnesota
Patricia and Peter Mcarthy – Sebastopol, California
Paula Clayton, MD – Santa Fe, New Mexico
Rabbi Deborah Brin – Albuquerque, New Mexico
Rabbi Joseph Edelheit – Minneapolis, Minnesota
Ralph Blum – Haiku, Maui, Hawaii
Rebecca Frischkorn – Charleston, West Virginia
Richard and Karen Mersky – Westmoreland, Jamaica
Sela Corporation – St. Louis Park, Minnesota
Sheila and Stewart Ross – Berkshire, England
Steve and Kathy Papermaster – Austin, Texas
Stillwater Investment Firm – Stillwater, Minnesota
SuperValu Corporation – Eden Prairie, Minnesota
Terry Tempest Williams – Salt Lake City, Utah
Weisman Corporation – Minneapolis, Minnesota
Westfield Hospital – New Richmond, Wisconsin
A note from the artist:
Let nature be your teacher
At an early age I knew Nature was my teacher, finding my true higher connection within it.
When I was given the gift to create art , it came to me suddenly , infused with the ability to see and reveal the faces and spirit of nature.
My years of study have taught me the wind and water principles of Feng Shui, and to understand that everything, including us, is part of the natural world.
Now we live in times where an appreciation of nature is disappearing from the lives of our children and young adults. Electronic distractions have led us away from our true home and source of life.
The simple joy of exploring the woods, or playing in a creek is gone.
While working with Dr. Jane Goodall I watched her efforts to awaken children all over the world to care for nature. Her influence on me was profound as I saw her fight for environmental awareness.
So now in my art and in my life I continually ask questions: Is this natural? Where does this come from and how is it made? Where is it going when we are through with it?
What does sustainable really mean? And how can we all get along and "sustain" ourselves and the natural world we live in?
My fervent hope is that my work can help rekindle the vital connection with the spirit of nature that we need to for survival of life on planet earth…