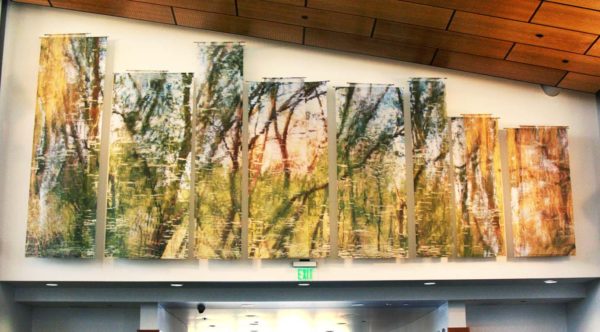 After the City of Plymouth completed the FIRST SUSTAINABLE GREEN LIBRARY in the country, nationally known artist, JOAN SOLOMON, was selected from a field of 130 artists to create a ONE-OF-A-KIND SUSTAINABLE MULTI-SENSORY ART INSTALLATION.
Completed this spring, Elements of Harmony is an archway installation which includes 17 MURAL PANELS HANGING 30 FEET IN THE AIR AND 20 FEET WIDE. Moving fabric scrolls layered on top of each other create the effect of RIPPLING, REFLECTED WATER.
The installation is made from completely sustainable materials: BAMBOO PAPERS, non- toxic pigments, and recycled fabrics, including poly- silks from RECYCLED SODA BOTTLES.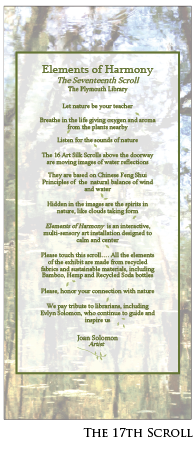 The artist began working with new fabrics and inking systems that have only recently become available. This allowed her to utilize FABRIC PRINTING that was RECYCLED AND RECYCLABLE. Solomon collaborated with several fabric print makers, including the first, U.S. certified sustainably green printing company.
"I like to do my homework and look up — It's like I'm in the forest!"
"Thank you – A welcoming peaceful sanctuary."
It's soothing and beautiful – nature is alive!"
The murals are accompanied BY NATURE SOUNDS, GREEN PLANTINGS AND WATER FEATURES THE CHILDREN'S AREA INSTALLATION, CREATED WITH ECO-DESIGNER AND PHILANTHROPIST MICHELLE POHLAD, features, cut-out pieces of the original work and hangs at a height for young fingers to explore. Children reach out to touch the NATURE SPIRITS HIDDEN IN THE ART, then find them in the large fabric murals, and outside in nature itself. .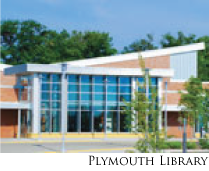 Joan Solomon is known for her deep connection to nature and the art that flows from it. Her work, with extraordinary environmentalist such as DR. JANE GOODALL, influenced her to create art that would support the planet without harming it in the process.
Using the FENG SHUI PRINCIPLES OF WIND AND WATER, the installation brings natural elements into the library atmosphere to balance, calm and harmonize.
From the EARLY COMMENTS it appears that the installation is a hit with patrons of all ages.